Volume 6 Issue 10 – "A Quarter, an Angel & Camels – 100in100 Update"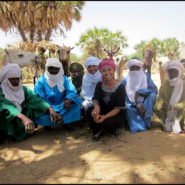 A Quarter, an Angel & Camels – 100in100 Update
If you visited El Salvador on a missions trip between 2000 and 2006, there's a good chance you may have worked with Angel Alonzo. He was a local King's Castle team member; then a Master's Commission student; and later worked with us on staff in the Communications Department. He is also possibly remembered by some as the "Warrior of Fire" who literally burned his face off in a fire-breathing drama gone horribly wrong, yet miraculously recovered without scars on his face.
While working in our department, there were many times I would go into his office only to find him praying and weeping over a screen-saver of African Children. I knew he had a call to missions, and after prayerful consideration, I called him into my office and announced that I was going to do him the "biggest favor of his life." That afternoon I explained that it was time to follow his call to Africa, and I fired him from the Communications Department. I instructed him to go directly to the Salvadoran Assemblies of God Missions Department and fill out an application to be a missionary to Africa. Through tears, he thanked me and went into the Missions Department next door.


A couple years ago, I saw Angel and he explained to me that he raised his first term budget by sharing that story from church to church in El Salvador. At first I was embarrassed, but upon further consideration, I became grateful to be a part of his journey.
This past weekend I heard, for the first time, the miracle story of Angel's first airfare to Africa and I have to share it with you.
Here is the story:
When Angel was first going to Niger as a single missionary, he went to reserve his ticket at the Travel Agency knowing he did not have the money to pay for the ticket.  He went in to reserve his ticket that was going to cost $4,000, and when asked for a deposit, he reached into his pocket only to find a quarter. The woman behind the counter looked at him funny as he placed the quarter on the counter and she was even more astonished when he asked for a receipt for the $0.25 cents; classic Angel.
Later, when he was at a mission's service and told his story about needing $4,000 to purchase his airlines ticket, a little old lady talked with him and said she wanted to bless him and handed him an offering.  He didn't look at it, but just placed it in his pocket thinking to himself, "Right, what kind of money could she possibly have." When he got home, he pulled it out of his pocket, and there was $1,500.  He then thought to himself, "Only 3 more old ladies, and I can buy my ticket."
On the day he was supposed to pay the remainder of his ticket at the Travel Agency, he was on his way with the $1,500 he had, knowing that he did not have enough money. As he walked, he prayed for a miracle. When crossing the street to pay for the plane ticket, a car pulled over to the curb, and the driver opened the door and said, "Get in the car."  Angel says, "Now, would you get in a car here in El Salvador—knowing how things are— if someone pulled over and told you to get in?"  Anyone who has spent any amount of time in El Salvador knows the answer is "No." The man handed him an envelope, Angel wandered if it was marijuana.  Then the man said, "The Lord told me to give this amount to the man crossing the street on this corner, and you were there."  He told him to take the money.  When Angel got to the Travel Agency, he asked if could use their bathroom.  But not to really use it.  He wanted to see how much money was in the envelope.  There was exactly $2,499.75.
$0.25
$1,500.00
$2,499.75
+ _________
$4,000.00
He came out of the bathroom and told the lady, "I've come to purchase my airlines ticket."  She asked, "How do you want to pay it, more quarters, Check or Credit Card?"  He replied, "Cash!"
Pretty amazing story of God's faithfulness to provide!

Since then, Angel has committed as a career missionary to Africa, married a godly woman with the same call. He and his wife Tirsa were blessed this past year with their first child; a girl, Naomi. He also was in need of a camel for transportation in Africa and through prayer God has blessed him with 5 camels!


As Michelle and I heard this story, we were both moved to tears; you never know how God is going to provide; it's ALWAYS a miracle! I have spent the last year and half traveling and sharing our story across the USA to encourage others, promote missions, and yes, looking for our miracles.
Now, we are facing an undeniable giant, over-shadowing our every move and taunting our faith. As we look forward to spending our last Thanksgiving and Christmas holiday with family for the next 4 years, our hearts are heavily burdened with the fact that we are in the final days of fundraising, and we are still needing $1,500 in monthly support to return to Argentina fully-budgeted. We are all too familiar with the very real limitations of working on the field under-budgeted as the cost of living went up 40% between our first and second year in Argentina; please don't make us have to repeat that trial.
A week after our wedding, on July 30, 1999, we began a walk of faith as we sent out our first appeal for support as missionaries to Latin America. Since then we have not looked back. Please prayerfully consider joining us as we continue that walk by becoming part of our financial support team, so that we can continue to train and launch young Latin American's like Angel as missionaries and media missionaries; also as we begin our new work with Latin American Child Care.
Click Here to make an on-going monthly commitment.
Click Here to setup a Reoccurring charge card.
Faithfully following our call,