Volume 8 Issue 2 – "Our 5th Anniversary"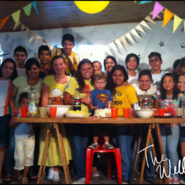 Our 5th Anniversary
5 Years ago TODAY, May 26th, we arrived in Argentina! Moving our family and ministry to "the bottom of the world," as Jon likes to call it, was a very tough decision, which we did not take lightly. But after nearly 2 years of prayer and seeking the Lord's will, we said, "Yes!" to His call. The Lord opened many doors for us in our first term; and today I'd like to share something He's been doing in this our second; kind of a follow-up to our last newsletter.
In late December of last year, a pastor's wife named, "Tita," in Alberti, Argentina, called me and begged me to come to her church to help them start a kids' program.  This is the church where our special December offerings allowed us to provide them with free Club Castillo manuals.
As I pulled up in front of her church, I felt in my spirit like the Lord said that He was going to do something big here. Her neighborhood reminded me of my home in El Salvador. I went to train her staff with Club Castillo and believed in a God-sized dream — of forming "Children of the Spirit."
After the training, I said to her that I would like to meet the kids from the church, and she said, "Oh, we don't have any. "
I thought, "Is this a joke? Why did she beg me to come?"  Then she told me how the Lord had told her "a foreigner would bring a plan that would bring change to her neighborhood."  So I prayed and asked God for a plan.
A week later, we planned a Children's Festival on the soccer field near the church for the families in her neighborhood. We set up something like a Carnival, including inflatables, games, candy, clowns, and prizes. We had over 200 people in attendance.
Then we followed up with weekly parties (still meeting on the soccer field), themed with the colors of the evangelistic bracelet: black, red, white, gold and green!
After this, we followed up with a discipleship program.  Most of the children were from dysfunctional families, many with one of their parents in prison, very poor and needy.
But our numbers started dwindling down as we hit rain challenges, school starting, and an angry devil.
When we had to move the meetings to the church, we had about 10 kids who then came faithfully.  "From 0 to 10," I thought,  "It's a good start!"  We believed for more!
One day, the Holy Spirit impressed on me to challenge the children's workers to go into the community, looking for God to speak to them in search of miracles. The next week, the staff was eager to share how God used them to speak into the lives of classmates at school, to a little old lady at a hospital, to the checkout lady at Burger King, and they wanted more!
Train up a child in the way he should go:
and when he is old, he will not depart from it.
Proverbs 22:6
The numbers began rising at our weekly Club Castillo meetings, from our faithful 10, began to grow to 70 kids. And the faith of our team began to grow as well. We meet on Saturdays at the church, providing breakfast and Jesus! Now, we have a big problem! We need more space! We have divided the children into classes by age, and we don't have enough room!  We had to divide the classes up in the church with sheets hanging from the ceiling! We need a building!
We are believing God for a building for the kids to meet in with classrooms. We need a children's church! We would love to make it a kid friendly environment! We believe that the best is yet to come!
If you would like to help in providing hope to the children of Alberti, we could use your help!
Please pray with us for this church/community and consider the possibility of bringing down a MAPS Team or simply sending a special offering to help us as we seek God's will to buy or build a Children's Annex at the Alberti A/G church.
Reaching the Children of Argentina,

Michelle Wellborn

*Help us Monthly
Thank-you to all our supporters! If you are not already a monthly supporter, please prayerfully consider joining our support team, as we are currently operating without ministry funds. Your financial investment is what allows us to invest in the lives of so many others. Please CLICK HERE to support us.