Volume 8 Issue 4 – "Christmas 2014"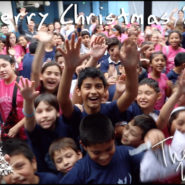 Throughout the year we have not only the honor of coordinating the Latin American Child Care Schools of Argentina, but also ministering to the children through monthly school assemblies. Watch the video below to see Michelle and her ministry team present the Christmas Message, "You are a child of the King".
It's hard to believe that we are basically half-way through our 4-year term; so much has happened since we answered God's call to come to Argentina. All along the way we have seen signs and confirmations and today I am so happy to share with you a few of the things God has been doing in our ministry.
"Whatever your hand finds to do, do it with all your might…"
Ecclesiastes 9:10
On September 10th we launched the new Media Ministry School at the River Plate Bible Institute (IBRP). It's truly a miracle to feel the Lord to call you to do something and then actually see it come to fruition! Back in the spring of 2006 I felt the Lord put a vision into my heart to begin to teach others to do the work I was doing, Media Ministry, and today because of His faithfulness and YOUR support we are here working with the students He called us to equip.
In addition to her work with LACC, this year Michelle has founded Club Castillo, Castle Club, here in Argentina. Utilizing the skills and talents she developed in El Salvador she had begun to train leaders who have in turn launched Club Castillo in their churches. What began as 1 church in Buenos Aires asking to be trained has now evolved into over 30 teams trained and commissioned in all 4 corners of the country. To say Michelle has done a little traveling is the understatement of the year! Driving, bussing, and even a couple flights, she's traversed this big country and seen more of Argentina than she could have imagined. God is good and through His faithfulness and YOUR support the next generation of Club Castillo leaders are being discipled today!
Also, Michelle is in the middle of planning and launching a new ministry department at the bible school, IBRP, here in Buenos Aires. In March they will launch classes for the "Children's and Adolescents Ministry School" or Escuela Ministerial de Niños y Adolescentes (EMNA). Michelle will not only be coordinating the department but she will be teaching classes as well.
We have many stories to tell as well as a couple of un-edited video reports waiting on my computer; hopefully we will get to those soon☺ Please keep us in your prayers as we continue to do all the work our hands find!
Merry Christmas from your Missionaries to Argentina,

The Wellborns

*Help us Monthly
Thank-you to all our supporters! If you are not already a monthly supporter, please prayerfully consider joining our support team, as we are currently operating without ministry funds. Your financial investment is what allows us to invest in the lives of so many others. Please CLICK HERE to support us.