Volume 9 Issue 3 – "¡Octubrillante!"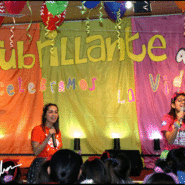 ¡Octubrillante!

Halloween weekend we celebrated life, teaching Argentine children to be a light for Jesus in the midst of the darkness celebrated during Halloween. In this dark world it's so easy to forget that the light of Jesus brings color to the world. All across Argentina, in many different churches, the message of Jesus was preached. Over 1,000 children were loved on and celebrated with the gospel message of Jesus saves and is coming soon!
This year has been amazing, God has continued to open doors and lead us to the places where He wants us to minister. A year-and-a-half ago the Lord opened the doors for us to found Club Castillo Argentina; the child-discipleship program of King's Castle which did not exist here even though King's Castle was founded in 2004. In just a short amount of time the Lord has allowed us to train just over 40 teams in 5 of the provinces of Argentina. We are already seeing hundreds of lives touched and changed through the evangelistic message and the follow-up discipleship program!
"As long as it is day, we must do the works of Him who sent me. Night is coming, when no one can work."
John 9:4
We are getting ready to end the 3rd year of our term, leaving only one year in this term; we need your help to finish strong. Twice the devil has literally tried to kill us while driving to and from Club Castillo trainings. So many times we have neared danger but felt the angels lift us up protecting us; thank-you for your prayers! Please don't stop, our intercessors have kept us alive. Also, don't stop sending in your financial support. I think some people think that because we are on the field already that we don't really need their financial donations. We are living by faith, occasionally with work funds, but more often without work funds. However, we still have crazy faith. That crazy "jumping out of a plane without a parachute" kind of faith, but after 15 years in full-time missions we've learned that God doesn't provide that "parachute miracle" until you jump out of the plane!
We are believing that 2016 is going to be a year of miracles, we are going to give it all we have believing like Jesus is coming every day of those 365 days!
Your Missionaries crazy in love with Jesus!
Michelle

The Wellborns