Volume 10 Issue 2 – "All in Just 6 months!"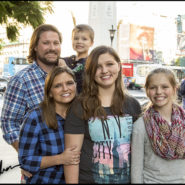 All in Just 6 months!
"The Lord Will Pour Out His Spirit"
Joel 2:28
The first half of this year has been incredible! The Lord has been providing unique ministry opportunities throughout the year. It's been exciting to see each opportunity unfold as we continue to walk in faith and seek His will.
Media ministry carries on as we begin a new semester at the River Plate Bible Institute next week. We are working diligienly with our staff as we prepare them for our upcoming furlough-year-absence. We are excited as every week more and more classes are filmed and will soon be added to the growing collection of on-line classes offered by the bible school. We are multiplying the message and ourselves by training new pastors and missionaries from all over Latin America who will be incorporating the power of media into their ministries. Please pray for us as we prepare to leave for furlough in December, also let us know if you would like to have us come minister in your church in 2017.
Michelle has been extremely busy and the Lord has led her all over the place. Below are just some of the highlights from her work as I have continued to work in Buenos Aires while taking care of the kids so that she can train as many leaders as possible.
__________________________________________________________
January – World Summit Meeting
Our entire family was in El Salvador for the World Castle Summit meeting where countries who work with King's Castle came together to learn, to evangelize, to worship, and to fellowship together. A mighty outpouring of the Holy Spirit challenged us to reach the world. Michelle gave several workshops and spoke one of the nights of the conference. The Holy Spirit poured out and flooded the room. Check out this subtitled testimony video: Click to see a video of Healing Testimonies
__________________________________________________________
February
February is summer camp season here in Argentina. Michelle ministered in several camps where the Holy Spirit transformed lives and ministered to the brokenhearted. She trained several more Club Castle teachers to further the work with the children of Argentina. Challenging the churches to raise a Generation of Children of the Spirit. Our intern Mimi Climaco came to learn for three months from the Dominican Republic.
__________________________________________________________
March
In March Michelle traveled to the Dominican Republic to minister in a Castle 3-day fasting retreat. The students were empowered by the Holy Spirit and were challenged to reach their neighborhoods for Christ.
Also, Michelle did a Club Castillo training for Club Castillo Kid's discipleship program in Buenos Aires; 5 countries from South America were represented in the training. There was a powerful move of the Holy Spirit that released such a freedom in the room. Each nation wept over their flags longing to reach the children of their nation.
__________________________________________________________
April
In April Michelle started teaching her class, Children Theology, at the River Plate Bible School in Buenos Aires.  She challenged her students to reach the children and with the empowering of the Holy Spirit set them on fire. It's amazing to witness the power of the Holy Spirit in the children.  One of her students who was 65-year-old woman testified that the Holy Spirit changed her life and she had all but forgotten about the power of the Holy Spirit. She said that she felt like she had wasted so many years of her life trying to come up with her own strategies. She said that from now on she wants the Holy Spirit to lead her in knowing how to reach the children. Michelle and Mimi traveled to the north of the country and witnessed some creative miracles. A little boy who had asthma came up with his mom. He had never been able to experience play like the other children. He couldn't run or exhaust himself because he would end up out of breath on the floor or in the hospital. Mimi prayed for him and he felt a fire in his lungs. She said, "Do you want to see if you can run?" At first the boy hesitated and then said, "yeah I want to run!" So Mimi and the little boy ran around the altar and the boy was amazed. The boy's mother witnessed the whole thing and was in tears. God is good!
__________________________________________________________
May
In May Michelle traveled to the western city of Mendoza to do a Club Castillo training. Several teachers came desperate to know how to challenge and excite their children. The  fun part about Club Castillo is that it is Matthew 18 come alive; it is the Great commission! Discipleship, Evangelism, Missions and compassion are still relevant and empowering our children to know how to defend their faith gives the child something to look forward to. The children are so hungry for the supernatural, if we don't point them in the right direction they will look in the wrong places for the supernatural mysteries.
Michelle traveled with Lexi, our oldest daughter, to Ecuador for 10 days. They traveled all over the country preaching, ministering in Children's crusades, and empowering teachers to become "Teachers of the Spirit". They also ministered in a 3-day leadership conference challenging the leaders to seek the presence of the Holy Spirit in everything they do.
Michelle's parents (Don and Terri Triplett) came to visit, but when your in-laws are ministers as well family reunions often turn into ministry opportunities. Michelle organized a LACC teachers retreat to minister to the teachers. Over 200 teachers were present and were filled with the Holy Spirit. Don and Michelle challenged the teachers to give priority to the Holy Spirit in the children.
__________________________________________________________
June
In June Bella graduated from 6th grade!
We traveled as a family to the Southwest of Argentina to the city of Neuquen to train "teachers of the spirit" and minister the Holy Spirit in 3 children's services. It is awesome to see children be empowered by the Holy Spirit. One kid testified that he had received the best birthday present ever. I asked him when his birthday was and he said, "today". I said, "Happy Birthday, what was the best gift ever?" To which he replied, "Today, on my birthday, I received the baptism of the Holy Spirit."  God is awesome!
__________________________________________________________
July
In July Lexi (14) and Bella (12) traveled to El Salvador for a month to spend time working with AIM teams in evangelism and to spend some time with grandma and grandpa. It's an incredible gift from God to have a legacy of God-empowered men and women on both sides of our family; what a heritage that we have to offer to our children.  All month long they ministered on the streets of El Salvador. Bella traveled for 3 days with kids of the spirit her own age. On a Saturday they woke the kids up at 3:30am to intercede on the streets before they began to evangelize on the streets, then the kids preached in a church service, did 3 evangelistic programs on the streets and finished the day ministering in a youth service. When she told me what she had done on Saturday I immediately asked her, "Was it exhausting?" She said, "A little, but it was an awesome day!" I asked, "Was it hard to pray at 3:30 am?" She replied, "Mom, the Holy Spirit gives us the words and strength; No it wasn't hard."
__________________________________________________________
August
In August Michelle traveled to the south of Argentina to minister in a children's leadership Congress in Villa Regina.  The teachers were empowered by the Holy Spirit and encouraged to minister the Holy Spirit to the children.  In one of the services a 3 year-old-child was sitting on his mom's lap as she was receiving the baptism of the Holy Spirit. He tried to speak to his mom and she couldn't understand him; He was speaking to her in tongues! God is amazing and Michelle has received so many testimonies from after that trip. God is alive! Amazing!
__________________________________________________________
Back to School
Also in August the kids returned to school, it was a particulary exciting time for Joshua as he began Kindergarten. He is adjusting well to the new schedule and we are proud of all 3 of the kids as they continue their studies and travel for ministry as much as possible.
__________________________________________________________
Most of these stories deserve their own newsletter, you can always check out twitter and Facebook account for our most immediate reporting:
https://twitter.com/thewellborns       https://www.facebook.com/thewellborns

Thank-you for your prayers and support, please continue to pray for us and our support as we complete another term. Also, pray for open doors and hearts in our upcoming furlough services.
Blessings from Buenos Aires!
Your Missionaries

theWellborns
Jonathan, Michelle, Alexis, Isabella, and Joshua