Volume 10 Issue 3 – "Help us make known His deeds"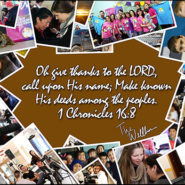 Help us make known His deeds

We are extremely THANKFUL for the incredible season of HARVEST we have experienced this term in Argentina and throughout Latin America!
We have seen God's blessings in our Media Ministry efforts, an unprecedented blessing in the launching of the Castle Club program in over 70 churches nationwide, continued provisions for the kids in the Latin American Child Care schools, and Michelle's international ministry opportunities.
In 1 month we will leave for furlough and have many dates available on our calendar for services in the USA; PLEASE allow us to come share some of these amazing testimonies in your church in 2017.
Email us now at: jonathan.wellborn@agmd.org
We recognize that NONE of this would be possible without your partnership through prayers and support; thank you for investing in the lives of thousands!
Your Missionaries,

theWellborns